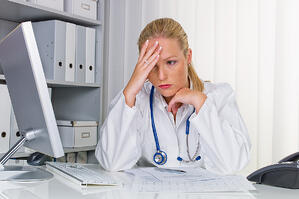 Technology refreshes are a critical part of staying current and competitive and a key responsibility of any IT department. Traditionally, every three to five years (or two to three for some devices), office hardware is swapped out for newer versions, while software and operating systems replacement schedules vary.
These days, an IT refresh usually means moving applications to the cloud, as more and more businesses adopt cloud-based models for their technology needs. Rather than purchasing new desktop computers in a refresh, more and more businesses are replacing them with hosted desktops.
An IT refresh can have a major impact on your budget, productivity, and services. While these are usually planned for, don't forget the stakeholders that are most directly impacted: the users.
Whether adopting new hardware, installing or upgrading software, or making the move to cloud services, here are three common mistakes IT departments make that cause frustrations for their end users.
1. Rushing the Process
Testing is crucial, and it takes time. It's more than just opening to see that the program or hardware runs correctly. In all the complexity and excitement of adopting new technology, it can be tempting to rush or overlook aspects of the testing process. But this will only cause more problems down the line. Taking your time here saves time in the long run.
Make sure to check your new installation against all of the processes it will be involved with, especially the ones that take time to run. Are users able to print documents correctly? Do invoices get sent to the right people? Do you have enough bandwidth for high-traffic times? Process maps can help if you aren't sure about everything being affected by the changes.
Don't cut ties to your old system until testing is complete. If you implement during a slow time, allow the system to run through a busy time (such as the end of the month) before you cut ties to the old system.
2. Not Providing Users with an Alternate Means of Access
Be sure to provide all users with an alternate means of access to any programs you're transitioning. For instance, if email is moving from one server to another provider, there's going to be a period of time (between a couple hours to a couple days) where users will only be able to access new emails as their archived emails are being exported and imported to the new server. If that's not being done ahead of time, give them alternate access to that email. If you're switching from Exchange on an in-house server to a cloud-based service like Office 365, keeping both available and ensuring forwarding is done correctly can save your users from frustration and missed emails. The same goes for any other processes or functions that are delayed or altered during the refresh.
3. Guessing How Much to Purchase
Mistakes in purchasing are common. For instance, say you're moving to the cloud, and you have fifty users… and you want to buy just one front end server for them to log into. Well, that's just not going to work. Once you get up and running, your users are going to be frustrated by the sluggish loading times.
If you're used to hosting on-site, moving to the cloud is a different animal. If you don't know how much processing power to allocate per user, you can't just guess, because you'll probably get it wrong. It's best to find somebody with experience setting up cloud environments who knows how much processing power you'll need for your particular needs.

Don't just take a guess and try to get it right. Ask for help when you need it. To find out more about what to look for in a technology partner who can assist you with moving to the cloud, download our quick guide on Top 10 Things to Look for in a Technology Partner.