Medical practices rely on their EHR software for most key day-to-day operations, and nothing is more frustrating then when that software isn't running smoothly. Performance issues affect everyone, so when it takes five, ten, fifteen seconds to do anything, even just enter notes, something must be done.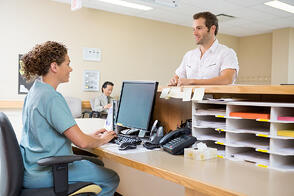 The 2014 Technology Survey by Physicians Practice shows that a little over 40% of practices are either dissatisfied or unsure/"in the middle" with their selection of EHR vendor. Other recent surveys, including several by Black Book, indicate that around one quarter of practices are so dissatisfied with their EHR that they are considering making a change.
However, performance issues with your EHR may not actually be a problem with the software, but due to how it is hosted. Before sacking your system outright, it's worth troubleshooting with your IT team. The issue may be more easy to solve than you think.
How to Troubleshoot Slow EHR Software
If you are experiencing slow loading times when you connect to your EHR portal, it's time to start troubleshooting. Let's take a look at issues that could be affecting connectivity and causing the software to not run at full capacity.
Are You Connected to Your Office's Network?
First, confirm that you are on the correct secure WiFi network. Sometimes your computer may just be connected to whatever open WiFi is available. Remember, the more people on a network, the slower the connection speed. Because of this, it's common for practices to have slow WiFi networks. Keep in mind, WiFi will always be slower. It's best to hardwire into your office's network with an Ethernet cable.
Contact Your ISP
Reach out to your Internet Service Provider and confirm that your Internet connection is working correctly. Is everything OK on their end? Are they seeing a loss in connectivity to your location?
Talk to Your Provider
Once you've established that your Internet connection to the office is not the problem (you've talked to your ISP), it could be the hosting provider who hosts your EHR. You or your IT staff need to reach out to your provider and start asking the tough questions. Ask them:
Are we on a dedicated server? How many offices are using that EHR server? Does it just go to our office? Are other practices using the server, and if so, how many? EHR servers will usually host for anywhere from twenty to thirty offices, so you're probably sharing resources.
Do the servers have enough dedicated resources for everyone using it simultaneously? If the servers are hosting multiple instances, do they have enough dedicated resources for everyone logged in at the same time? Do they have sufficient processing cores, memory, cables, etc? Is their internet connection fast enough?
Where is the data center located? It shouldn't matter where the data center for the EMR servers are, but it does. The internet is inherently public. Your data needs to travel over the public internet so the closer you are to the data center, the faster the connection. EHR applications transfer a large amount of data, so distance matters. If you're in Houston and the data center is in Houston, it's going to be quicker than if the data center is three hours away in San Antonio.
How can they make it better? Some providers will be willing to move you to a different, less crowded server, or possibly a closer one if that is an issue. If you are on a shared server, sometimes you can work with your hosting provider. For instance, some of our clients in Houston were experiencing lag times because the EHR data center was in San Antonio. Because a number of them spoke up, the provider leased space in Houston and set up a center in order to correct the issue and keep their clients.
What If It IS the Software?
If the hosting provider has everything set up right (the Internet bandwidth is good, and the data center is nearby and has proper power and resources) and other sites are loading well, it might be the software itself. You may be able to get a trial of the software to host in-house to test performance. If you're seeing delays while its installed locally at your office, then you know it's the software.
Your hosting provider may be willing to contact other practices in the area to see what software they are using and what their connectivity rates are. Ask them and see if others are having the same problems you are.
Having an IT Partner Can Help
Having an experienced and knowledgeable IT partner can help at getting to the heart of the issue and solving the problem. At C3, we've had clients with EHR connectivity issues come to us first, rather than calling their EHR provider. We were able to ask the EHR provider the technical questions that pushed them to the make the necessary changes to fix the issue.
Without a technical background, you're going it alone, and you may not be able to get a clear answer out of your EHR provider. A good IT partner can see through any jargon, bring them pointed questions backed by hard data (such as the records of long response times and results of connectivity tests), and help them hone in on the problem and find a solution.To learn more about what to look for in an IT partner who can help you get more out of your EHR software and your technology as a whole, download our quick guide on Top 10 Things to Look for in a Technology Partner.