Is Office 365, Microsoft's subscription-based Office suite, right for your business? The price is right, but are there any drawbacks? For some businesses, especially those in high-compliance industries like healthcare and finance, Office 365 has shortcomings.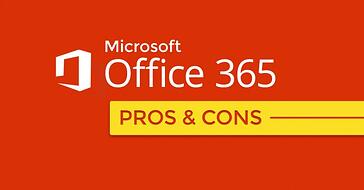 Pros
-Price: Office 365 has Business and Enterprise versions, and Business plans start at just $5 per user per month. That $5 buys web-based versions of Word, Excel, and PowerPoint, as well as hosted email, Lync, and file storage and sharing (with a generous 1 TB per person storage limit). For a few dollars more per user per month, you also get full installed versions of Office applications, instead of just the web apps. At the high end, the full-featured $20 per user per month Enterprise plan includes group policy and some level of information protection (compliance and litigation features) in addition to Office applications and email hosting. Especially if you don't need the Enterprise features, an Office 365 subscription is less expensive than buying a new full license for Office.
-File syncing: Office 365 makes it easy for users to share files and sync files between different devices.
-Hosted Exchange: In almost every case, Hosted Exchange beats hosting it on premises. Exchange hosted in the cloud means that your email is always accessible even if the power is out at your office—or worse, if your office's server crashes. Hosted Exchange typically also saves money over the alternative, purchasing Exchange server licenses.
-Always the latest updates: Instead of purchasing the newest version of Office ever 3-4 years, Office 365 includes the latest version available.
-Scalability: It's easy to add and remove users as needed—users can be added and removed as needed, meaning you won't be stuck with more software licenses than needed.
Cons
-Limitations: If you buy a plan that only includes the web version of Office apps, functionality is limited. Users won't have all the formatting options and advanced Excel capabilities they're used to. Most businesses will want to choose a plan that includes the full installable versions of Office, which raises the cost. Microsoft-hosted Exchange limits are hard-set, for example the deleted item retention period is 30 days. Other hosted Exchange providers can offer the same unlimited retention period as an on-premises Exchange server.
-Flexibility: Because the software is hosted, third-party integration sometimes is not possible (and if it is, it might require workarounds). If you use applications that integrate directly with Exchange or Lync, you can't assume they will be compatible with Office 365.
-Security: The flexibility of Office 365, with users able to install Office programs on several devices as well as use the Office web apps to access Office from anywhere, leaves some security gaps. It's easy for users to download and work with files on their personal computers—great for ease of work, not so great if you are concerned about data loss prevention. For example, an employee preparing to leave the company could download sensitive information to his own computer to take with him; there are no built-in restrictions preventing this.
-Ownership of data: Your data will be hosted outside of your organization, on Microsoft's shared servers. This might be a deal breaker for some companies in high-compliance industries that require 100% private infrastructure for data hosting.
-Support and uptime: While Microsoft's service is designed for maximum uptime, outages do happen. There are times when some or all of your company's data and email might be inaccessible for a few minutes or a few hours. Microsoft works quickly to fix the problem, but in the meantime—there's nothing you can do but wait. It's out of the hands of your internal IT support staff.
Alternatives
For businesses in high-compliance industries that need more file security and data loss prevention features than Microsoft currently offers with Office 365, a full hosted desktop solution might make more sense. Hosted desktops usually also include perpetual licensing for the latest version of Office, Hosted Exchange, and access from anywhere. But, they also include more robust security reporting to protect your company's data and are an integrated solution for all of your company's programs instead of just Office. To learn more, check out our Hosted Desktop Datasheet below, or contact us for help deciding if Office 365 is a true fit for your business.