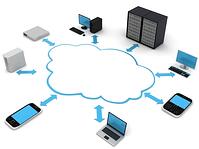 If your company is thinking about moving to "the cloud," there are TONS of options out there. Say you know about the benefits of hosting your IT in the cloud. Now, the hard part—deciding which hosting company to trust with your data, your business's most important asset. This post covers a few key things to look out for.
1. Does the provider own their own infrastructure, or are they a middle man?
Is the provider leasing servers from a company like Microsoft Azure or Amazon Web Services, or do they own and fully manage their own infrastructure? Here's why this is important: If the hosting provider doesn't own their own infrastructure, the hosting provider is not fully in control. Instead, they become a middle man, reselling a third party's platform to you (of course, they do add value by preparing the servers for your use). The problem is, those third parties have outages sometimes. Your hosted desktop will be inaccessible at times, and there's nothing your hosting provider will be able to do.

2. Where is the data center?
The physical distance between you and the data center does matter. Because your data travels over the cables of the public internet, the closer you are to the data center, the faster the connection. Seek out providers with a regional presence and local data centers.
3. What is the response time in the Service Level Agreement (SLA)?
If you have a problem, how long will it be to get in touch with someone and fix the issue? If I you're unable to log in, how quickly can your provider get on the phone with you and solve the problem? Ask them about their customer service, and get plenty of references and see what other clients' experiences are like. Get service guarantees in writing in the SLA, not just vague promises from sales reps.
Have more questions? We always offer free consultations, even if C3 is not on the short list of providers you're considering.